Our comapny Shandong Le Ren Special Steel produces special steel bars for automotive application. The Typical steel grades include Gear steel, free cutting non-quenched and tempered steel, Spring steel, bearing steel and other carbon and alloy steel.
Gear Steel Grade:20CrMnTi, 20CrMo, 20CrMnH, 20CrNiMo, SAE4120, SAE5120, SAE4340, SAE8620, 18CrNiMo7-6, 20MnCr5, 20NiCrMo2H, SCM415H, SCM420, SNCM420, SCM822, SNCM220 etc.
Free Cutting Non-quenched and Tempered Steel: 30MnVS, 45MnVS, 38MnVS6, 48MnV, SAE1141, SAE1117, SAE1144 etc.
Spring Steel: 50Mn, 60Mn, 60Si2Mn, 60Si2Cr, 60CrMnA, SUP9, SUP9A, SUP10, SAE5160, SAE9260, SAE6150 etc.
Bear Steel: GCr15, SAE52100, 100Cr6, SUJ2 etc.
Other Carbon & Alloy Steel: S20C, S45C, C45, 42CrMo4, 42CrMoS4, 41Cr4, 40Cr, SAE4140, AISI4140, SAE5140 etc.
We can produce different delivery condition steel bars such as cocld drawn steel bar, peeled steel bar, ground and polished steel bright bar, normalized steel bar, annealed steel bar, quenched and tempered steel bar etc.
The various applications of the steel bar for automotive: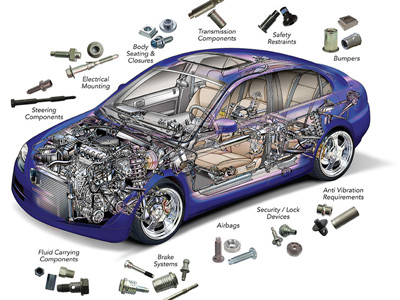 Axles

Brackets

Fasteners

Air Bag Components

Engine Components

Steering Components

Drive Line Components

Transmission Components

Wheel and Hub Components