Our company Shandong Le Ren Special Steel produces steel bars for construction. There are major two kinds of construction used steel bar.
One is the carbon steel grades such as Q235, SS400, S235JR, Q345, S355JR, S355JO, S355J2G3, Q420, S420N, Q460, S460N etc. which is used in buildings construction. The bars are usually with lower yield strength below 460MPa.
The other one is the alloy steel grades with higher strength from 600MPa to 1280MPa. The material materials are 40Cr, 41Cr4, SCr440, SAE5140, 42CrMo, 42CrMo4, SAE4140, 40CrNiMo, SAE4340 etc. To get the higher mechanical properties, the bars are usually required to be quenched and tempered. Such quenched & tempered steel bars with high mechanical properties are usually used in construction of airports, bridges, new energy of power, marine etc.
The different application used steel bars usually have different technical specifications. We can customize the steel bar to meet different technical requirements depending on our full sets of productions facilities and complete testing equipments.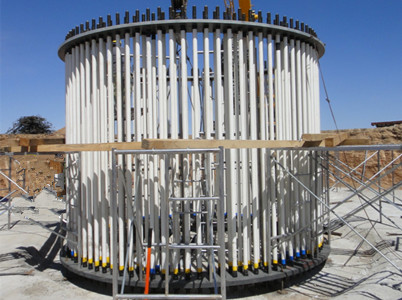 The major applications of the steel bar for construction:
Common Steel Bolts, Nuts and Screws

Structural Steel Tie Rods

High Strength Steel Tie Rods

Tension Steel Bar

Post-tensioning Steel Bar

High Strength Steel Anchor Bolts

Wind Power Anchor Bolts

Marine Anchor Bolts